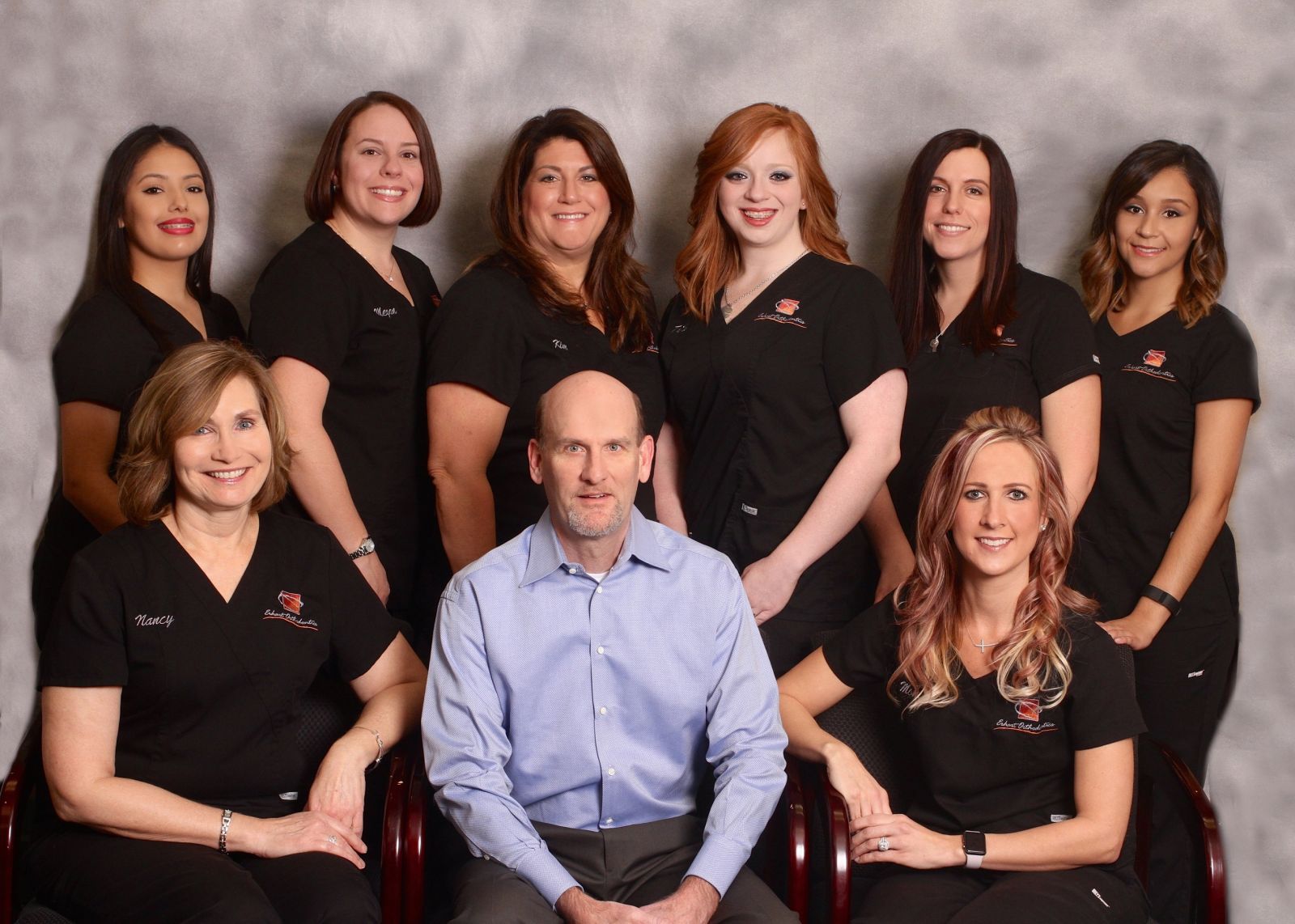 Our staff is dedicated to providing you and your family with the best possible orthodontic experience. We strive to keep our team members over the long term, so you will always see friendly, familiar faces during your visits.
Each member of our clinical staff is certified by the Academy of Orthodontic Assisting. Everyone is committed to delivering the best care to you, and maintaining certifications is part of that commitment.
Dr. Erhart has ensured that your privacy is as important to every member of his staff as it is to you. As a testament to this, all staff members have earned a certificate in HIPAA Workforce Security and they complete annual HIPAA training.
Administrative Staff
Beth
Office Coordinator
As the office coordinator, my focus is always on making sure our practice runs smoothly and efficiently so Dr. Erhart and our team can focus on what's important: patient smiles!
I love how every day brings new patients and exciting challenges into my life. I enjoy working for someone I trust will always to do what is best for our patients and our team. Erhart Orthodontics is a positive, happy office and our patients make every day at work rewarding!
Outside the office, I enjoy decorating the new home my husband and I bought in 2016, traveling, and being outdoors, especially hiking. My husband Dan and I also have a black Labrador named Wilson and two cats, Monte and Murray.
Megan
Special Project Coordinator
I originally started working for Dr. Erhart as a full-time chairside assistant in 2008, but took some time off after my son was born. I have now returned to Erhart Orthodontics part-time, and manage various different projects around the office, such as HIPAA compliance and training, social media, chart archives, and patient follow-ups.
I love being a part of the Erhart team! It's so much fun to see how treatment changes a person's life and how happy our patients are with their finished smiles! We care for amazing people who bring a lot of laughter and smiles to our office.
I am grateful that Dr. Erhart allows me the opportunity to work mostly from home while I continue to raise my son with my husband Tony. Aside from my job at Erhart Orthodontics and being a wife and mother, I am also a Police and Fire Commissioner for Romeoville, an avid reader, and volunteer at my son's school.
Clinical Staff
Monica O.
Clinical Coordinator
I wear two main hats in our practice. As a chairside assistant, I help Dr. Erhart with various procedures while offering support to our patients in any way I can. I also manage the clinic by monitoring patient flow to ensure we're running smoothly and, when there is down time in the clinic, I handle inventory and train new employees. In addition, I also present treatment plans and answer any questions that come up throughout treatment.
My favorite part of working at Erhart Orthodontics is getting to know our patients over the years they come to our office. I love laughing with our patients and having a good time in the clinic! Helping people I care about develop the beautiful smile they deserve is very rewarding!
I am married to my high-school sweetheart, Aaron, and together we have a daughter named Ava and a son named Max. Having an energetic toddler and a baby at home keeps us plenty busy as it is, but we also enjoy spending our spare time with friends and family.
Monica T.
Treatment Coordinator
Like Monica O., I also wear multiple hats in the office. First and foremost, I am a chairside assistant who helps Dr. Erhart with patient care and procedures. I also make retainers, deliver appliances, and review home care and hygiene practices with patients. My second role is as a treatment coordinator, so I also coordinate appointments for treatment and present and explain treatment plans.
My favorite part of orthodontics is seeing patients' transformations from the time they start treatment until they finish with a smile they love! Orthodontic treatment happens over several years and I enjoy having that time to get to know our patients and for them to become a part of our Erhart family.
I am fluent in Spanish and am lucky enough to own the world's cutest dog: Osito, a toy poodle.
Marlene
Clinical Assistant
I assist Dr. Erhart chairside with a variety of orthodontic procedures. I also fabricate retainers, review care and hygiene instructions, and take before and after photos and X-rays. I also help with sterilization and follow up with patients on their care.
I'm a people person and love how different each patient is. Their unique personalities fill the office with excitement and energy! It's very fulfilling to watch a person develop a smile that changes their life and to play a role in making that smile happen.
Personally, I come from a big family, so it seems that there is always something exciting going on. I'm also a newlywed. My husband Rob and I love spending time together and especially enjoy going out to the movies or shopping.
Haylee
Clinical Assistant
I assist Dr. Erhart chairside with a variety of patient procedures as well as fabricate retainers, take x-rays, and help with sterilization. I believe on of the most important aspects of my job is to help the patients feel comfortable and at ease with whichever procedure they will be having that day.
My favorite part about orthodontics is being able to help patients accomplish their perfect smile. Seeing them happy with a gorgeous smile is hands down the best part of my job.
Outside of Erhart Orthodontics, I spend most of my time with my family, my fiancé and my pets.
Suzet
Clinical Assistant
I assist Dr. Erhart in patient procedures, prepare and educate patients on how to care for their braces and appliances, take any necessary X-rays and impressions, and make retainers.
Every patient is unique which means every case and treatment is different. These differences allow me to learn new techniques and approaches each and every single day which is one of my favorite parts of working at Erhart Orthodontics. Also, I enjoy seeing patient smile transformations. I find it very rewarding to help give them that boost in their self-confidence.
When I'm not working at Erhart Orthodontics, I spend most of my time with my husband and our 1 year old son. We love spending time together as a family.